Make Sure Your AC Unit Is on Solid Ground
Don't Let an Unexpected Meltdown Ruffle Your Feathers
Phew! Here at Air Professionals, we thought those Arctic blasts of winter would never end. Even after the calendar proclaimed spring had officially arrived, Old Man Winter stubbornly refused to release us from his icy grip. But, finally, the spring flowers have bloomed and warmer, sunnier days are more routine.
Spring is the season of new life and fresh starts. For homeowners in Central Jersey, it's the time to tidy up the yard, scrub down the outdoor furniture, clean out the garage and spruce up your indoor living space. It's also the ideal time to prepare your air conditioner for the hot and humid summer ahead. And when you're in need of dependable, professional and affordable air conditioning contractors in Hillsborough and throughout this area, Air Professionals is the team you can trust.
Don't Let Your Comfort Slip Through the Cracks
Has this ever happened to you? That first summer heat wave arrives early and catches you off guard. You coast on over to your thermostat and set it, expecting to ride wave after wave of cool relief. But, instead, nothing happens! While you weren't looking, your AC had a meltdown!
You can avoid this sweat-drenched nightmare. As you're carrying out your spring cleaning, here are a few easy steps you can take to get your air conditioning system in tip-top shape so it's there for you—from the first heat wave to the last gasp of summer:
Clean or replace the filters. A clogged or dirty air filter can restrict your AC's airflow and sometimes even freeze the system's coils. When airflow is compromised, your system runs longer and harder. It uses more energy and your bills spiral out of control. Your unit has been sitting idle for quite some time, so a fresh start with a new filter could be just what it needs. Changing the filter is fairly simple. But we'll be happy to glide on over and do it for you, along with our thorough spring maintenance checkup.
Check your ductwork. If you have a forced air heating system, you probably use the same ductwork for heating and cooling. If your furnace airflow has been fine all winter, the odds are that your ductwork is in good shape. However, it's a good idea to make sure seals are intact and there are no holes or cracks in your ductwork.
Clean your condenser and coils. If you don't cover your unit during the winter, it definitely needs a thorough cleaning. But even a unit that's been protected over the winter months could use a little TLC. Clear away any leaves, twigs, grass clippings, plants and debris. Use a soft cloth to remove pollen, mold or other buildup from the outside of the unit. You should remove debris from the inside of the box, too. Buildup on the condenser can reduce or inhibit airflow, which will affect performance and could cause even more serious problems.
Check your coolant lines. These are the pipes or tubes running from the condenser outside your house to the evaporator inside your house. To prevent energy loss and waste, they should be fully wrapped in insulation.
The team at Air Professionals will be happy to glide on over to make sure your system is on solid footing. We cover these steps and more during our top-shelf spring maintenance service. When it comes to HVAC contractors in Hillsborough, Flemington, Clinton and beyond, we realize that you have options. But Air Professionals is the team you want on your side when your AC's reliability goes slip sliding away and you need a quality repair, replacement or installation. Our products are top shelf. Our services are impeccable. We've got the coolest techs in town. We offer a 100 percent satisfaction guarantee and 24/7 emergency service. And our honesty, reliability and professionalism are second to none.
Call us today at 908.238.3732 or contact us on the web.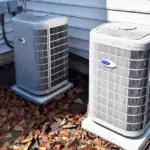 Autumn is just around the corner, with its official start on September 23rd! It feels like just yesterday we were…
Read More