Why You Need HVAC Surge Protectors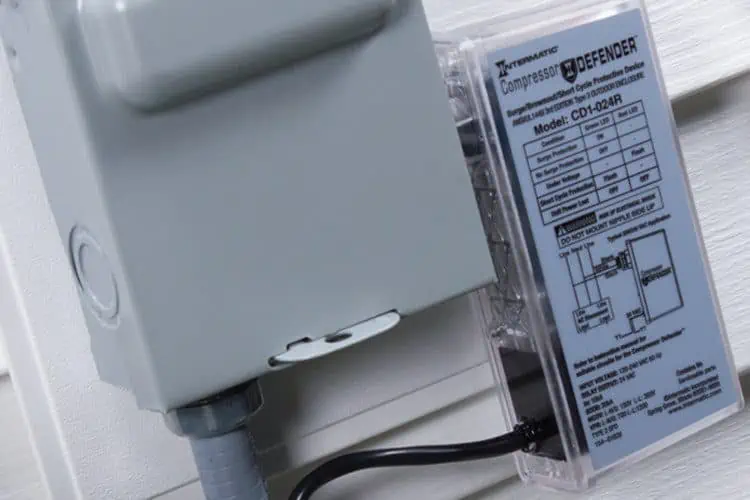 You plug your computer into a surge protector, but did you know your HVAC unit needs one, too?.
Small electrical surges happen all the time, and most often you won't even know that it's happening. They are generally not dangerous, nor do they always mean something is wrong with your wiring. However, repeated surges through certain appliances and electronics can cause them to fail faster.
If you have a home computer or laptop, you probably plug it into a surge protector. We all know that computers cannot handle electrical surges. But most people don't think about the fact that these surges affect all of the appliances in your home, especially smart appliances.
Your air conditioner is the most expensive appliance in your home to repair or replace. It is important to keep it well-maintained and running smoothly. If you don't protect your unit from surges, it could also become damaged and need to be replaced.
There are some basics about power surges and HVAC systems that you should know. This information will help you see why you should have an HVAC surge protector installed.
Causes of Power Surges
A power surge is a high amp, low duration fluctuation in electrical power. Power surges are equally likely to be internal or external. Most undetectable small power surges are caused by internal sources. Larger power surges are usually caused by external sources.
Internal power surges may be caused by:
Faulty wiring
Faulty circuit breaker box
Faulty appliances
External power surges could be caused by:
Lightening
Blown transformers
Downed power lines
Other electrical service issues
Some areas that have greatly increased their population in the last 20 years are finding that their electrical grid is outdated and providing low quality service. Especially now, with everyone staying at home, everyone is using more electricity and urther burdening the utility service. When summer hits and everyone turns on their ACs, brownouts and outages may be frequent.
No matter what the power surge is caused by, every single one has an impact on all of the appliances in your home, including your air conditioner.
There are many things that you can do to prevent power surges from occurring in your home. There are also some things you can do to protect your air conditioner during these surges. Here are some surge prevention tips:
Turn off your air conditioner at the thermostat when there is a lightning storm.
Unplug high amp appliances when not in use.
Get your electrical system inspected by an electrician, and upgrade wiring if needed.
Invest in volt surge protectors for major appliances like your HVAC system.
You should always take preventative measures during any storm that could produce lightning, downed power lines, or blown transformers. Unplug and turn off unnecessary appliances and electronics so that if a surge happens, you don't have thousands of dollars of repairs and replacements for your home.
How Surge Protectors Work
Surge protectors divert excess electricity away from the device or appliance and into the electrical outlets grounding wire. It does this by using a metal oxide varistor, or MOV. This is made up of oxide sandwiched between semi-conductors. When the voltage is correct, the MOV does nothing. If the voltage gets too high or spikes, the MOV pulls the current into the grounding wire. The MOV can do this without shutting down your AC unit.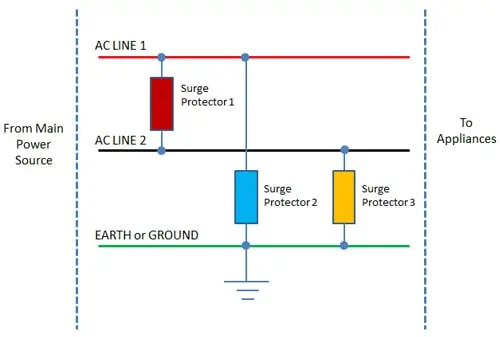 How Power Surges Affect Your HVAC System
Power surges, no matter how minor, have a lasting effect on your air conditioner. It may not be apparent at first, but repeated power surges can wear down the compressor of your AC unit. A severe power surge, such as from lightning, might be enough to require a complete replacement of your HVAC system.
Power surges can damage your AC by:
Overloading and damaging the capacitor (the part that harnesses electricity and pulls it into the unit)
Frying out the circuit board (this is basically the brains of your air conditioner)
Shorting out the compressor (this part circulates and provides energy to the refrigerant)
Often small surges intermittently overload the capacitor or short out the circuit board, without you realizing that damage is occurring. Unfortunately, by the time your air conditioner quits working extensive damage may have been done. These air conditioner repairs can become costly.
Such power surges can also be very dangerous. If a power surge creates an arc of electricity around the appliance, generating heat and potentially causing a serious fire. If you notice major power surges you should contact a technician right away.
What Surge Protection Does
Surge protection is recommended for your most expensive appliances, such as HVAC units and computers. You can even get a surge protector that protects your whole home at once, but these do little to protect against internal surges. Most people use surge protectors to protect their computer and electronics, but many do not know how they work.
Surge protectors do not actually prevent power surges. Instead, they are designed to protect your devices from these surges by being a pass-through for electricity from the source to the device or devices plugged into the outlet. When a surge occurs, the surge protector sends the excess energy to the outlet's grounding wire, preventing it from providing too much electricity to the appliance.
Surge protectors for air conditioners work the same way, even though they don't really plug into an outlet. The wiring to your air conditioner still has a grounding wire that can be utilized by the surge protector to prevent damage to your HVAC system.
Benefits of HVAC Surge Protection
HVAC surge protection is the best way to keep your AC running smoothly for as long as possible. The average air conditioner lasts about 12 to 17 years. However, if you have significant power surges or frequent surges, your AC could break down much sooner. Power surges don't discriminate between new and older HVAC systems.
Here is a breakdown of how a surge protector can save you money and frustration.
Homeowners insurance does not cover appliance repair or replacement.
If you have a home warranty that covers your appliances, it probably won't cover damage from power surges.
For many homeowners, the air conditioner is the most expensive appliance in the home, and surge protectors extend the life of your unit.
Surge protectors protect your HVAC system from lightning up to ½ mile away.
Another benefit of HVAC surge protection is that it decreases downtime of your air conditioner. This summer will be more taxing on your local electrical service than previous years. It is best to prepare in advance for surges and outages.
Investing in an HVAC Surge Protector
If you want to prolong the life of your air conditioner, as well as increase your home's safety, you should have an HVAC surge protector installed before warmer weather comes. Contact an HVAC professional for assistance in choosing the right device.
Be prepared to invest in your HVAC surge protector. You can find "surge protectors" for as little as $10 to $50, but they won't contain MOVs. If you happen to find one in the $100 to $300 range, it may have MOVs but they will be of lower quality. It could increase the likelihood of expensive AC repairs. In order to get an effective HVAC surge protector, you will be looking at spending at least $550, likely more.
Installing an HVAC Surge Protection Device
The installation of an HVAC protection device is fairly straightforward, and it doesn't take much time if you know what you're doing. However, if you don't have training in HVAC systems, you should leave such HVAC upgrades to the professionals. The additional labor costs are much cheaper than potentially expensive repairs or replacement due to poor installation.
The surge protector will be installed at either the main breaker panel or at the service disconnect for the HVAC unit. For most systems, installing at the service disconnect is the most effective for protecting your air conditioner specifically.
Why You Should Act Now
With stay-at-home orders, everyone is spending more time at home, using more and more electricity. When everyone turns on their AC in the next month or so, it's going to put a severe burden on electrical service. This can cause more power surges than usual. Preparing ahead by installing an effective HVAC surge protector is important for preventing downtime of your air conditioner.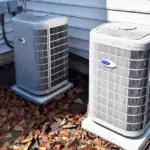 Autumn is just around the corner, with its official start on September 23rd! It feels like just yesterday we were…
Read More