Experience the Avalanche of Advantages
Air Professionals Won't Leave You Out in the Cold—or Heat!
When you feel your home comfort slip-sliding away, there's one sure-fire way to regain your footing—partnering with Air Professionals. With more than two decades of experience, we've seen it all and done it all. We provide top-of-the-line products and premium services at affordable prices—and we serve you with a smile!
Why Choose Air Professionals?
First of all, our little penguin friend is so darn cute! But cute only gets you so far in life, right? The real reason to choose us is that we're a rare breed—a heating and cooling service that isn't trying to be everything to everybody. We specialize in the residential home market because staying focused has allowed us to fine-tune our skills and become the best in the business. While those other birds are scrambling all over and dabbling in this and that, we've perfected what we do to best serve you.
Learn More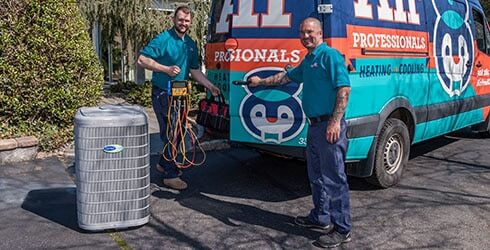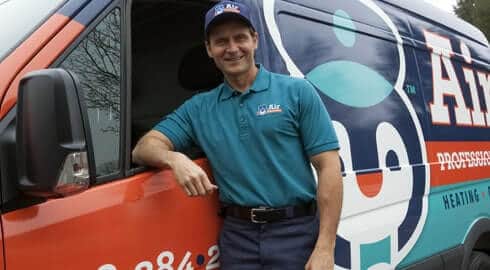 Our Stomping Grounds
There's a reason we love serving homeowners in Hunterdon, Somerset, Mercer, Morris and Warren counties so much. It's because this is our territory. In the penguin world, a close-knit group is called a colony, rookery or waddle. No matter what you call it, we're all part of the same family. We're proud to live and work in Central Jersey and to call you our neighbors. We see many of you at the grocery store, movies and outdoor community events. It's these personal connections that fuel our passion to go the distance to meet—and exceed—your expectations.
Scope out our territory.
Choose Your Partner Wisely
Did you know that some species of penguins have one lifelong mate? So, it's important for them to choose wisely. When you own a home, it's important for you to be choosy for your heating, cooling and indoor air quality needs. If you make the right decision the first time around, you avoid the need to "break up" with your contractor and go searching for the most suitable partner for you. To help you steer clear of those less-reputable birds from the start, we've gathered a few tips for your consideration.
Learn the facts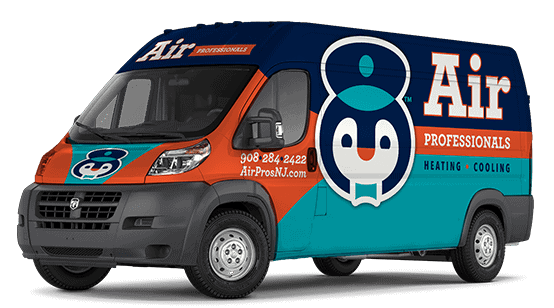 Attilio A.
18:28 03 Oct 22
Great service! Our tech was very professional and knowledgeable!

krishan Y.
12:52 03 Oct 22

Air Professionals are truly professional. Competent, considerate and on time. Explain everything that did and found clearly and concisely.

Greg serviced my furnace and humidifier on Oct. 29th. He was very professional, thoughtful and efficient.. He explained everything and took the time to answer all my questions. I will continue to use Air Professionals for heating and air conditioning. . . .

Service was on time and very efficient. Service person was very courteous and respectful of my home. I highly recommend this company and their service people.

Have been a customer with them for several years. Quality service. Great customer service

Kimberly D.
18:25 21 Sep 22
I have used Air Professional's for many years, and have never had a bad experience. He took the time to explain what he had worked on & how everything looked good. Very respectful. I highly recommend Air Professionals.

This was the second time I have contacted air professionals and like the first time they were great. The technician (Hilmi)took the time explain the what happened and why it happened. It was resolved quickly and cost was reasonable.Hilmi, is an asset to air professionals. Knowledgeable, thorough and professional.Great job.

marissa M.
17:42 12 Sep 22
Our ac broke and they were there within a few hours to fix for us! The technician was super friendly and professional i would use them again for sure