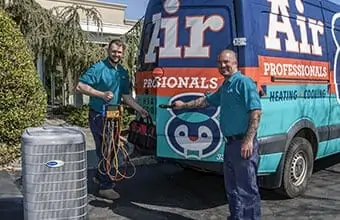 Join the Air Professionals Team!
We're Committed to Both Customer & Team Satisfaction
Are you looking for a career with a family-oriented company that values YOU? Do you want to work for an employer who wants to grow your career, provides competitive benefits, rewards you for performance, and puts you on a WINNING TEAM, then Air Professionals is for YOU!
With our large customer base and almost 25 years in business, we are positioned to grow and thrive in the years to come. Our philosophy is simple: To ENRICH LIVES. The lives of our team, our customers, and the communities we serve.