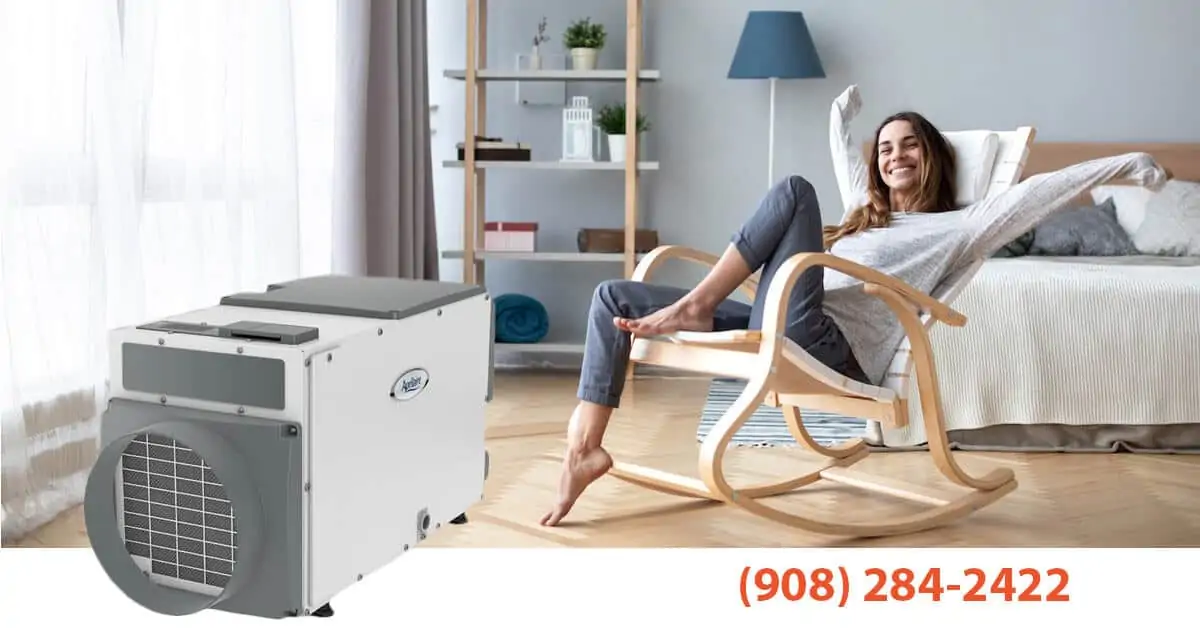 Dehumidifying Services and Whole House Dehumidifiers
During hot Summer days, humidity outdoors can be quite uncomfortable. Imagine the same inside your home. It can become downright unbearable, and it also happens during rainy days. Yet the discomfort it brings may be the least of your worries.
High levels of humidity indoors increase health risks. A home suffering from damp gives bacteria, viruses, fungi, dust mites, and other nasty things the perfect opportunity to thrive. There's a consensus among experts that a home's humidity levels should be kept within 35% to 50% to ensure optimal air quality.
Anything higher can cause many common problems associated with too much moisture in the home. The clothing, towels, and linens in your closets will develop a moldy scent. You will start seeing mold spore stains on your ceilings and walls. Pretty soon, your rooms will have a stuffy feel and a bad smell.
Air Professionals Heating & Air Conditioning has long been a trusted name that has helped several owners keep their home's humidity under control. Our skilled technicians are second to none, especially in installing, maintaining, and repairing whole-house dehumidifiers.
We have the experience to help you pick the perfect dehumidifier that will maintain your home's humidity within a percent of your ideal level. The sooner you give us a call, the sooner you'll enjoy some fresh air in your home again.
What's a Dehumidifier?
A dehumidifier is somewhat similar to a vacuum cleaner. The device sucks humid air inside a room on one end, removes the moisture, and then discharges the drier air from another end. Both portable and whole-house dehumidifiers draw the humid air towards cooling coils, which condense moisture into water.
The water collects into a removable catch basin if it's a portable dehumidifier or flows down a drainpipe if it's a whole-home installation. Typically, portables shut down whenever the water reaches a certain level. You can grab the container or use a hose to empty the water into a sink.
On the other hand, whole-home dehumidifiers are installed with hoses or drain pipes that directly deposit the water into your drainage system. You don't need to worry about the water collected for more hands-free operation.
Problems Caused by Excess Humidity
Too much humidity in the air you breathe indoors can pose some serious health risks and other issues such as:
Respiratory infections;
Spread of allergens;
The rapid growth of fungi, mildew, microbes and dust mites;
Warping floorboards, door and window frames, furniture, and damaging other parts of your home; and
Attracting all sorts of pests.
It's important to keep in mind how high indoor humidity can promote toxic concentrations of VOPs (volatile organic compounds) in indoor air. Typically, VOCs will off-gas from petroleum-based materials like polyester, acrylic, nylon, and more.
These VOCs are in carpets, varnishes, and paints, especially in new houses, but they can continue to be a threat in older homes. The excess humidity in the air makes it harder to filter VOCs and makes off-gassing worse.
Moreover, if you're prone to allergies, living in a humid environment can be a nightmare. An allergic reaction to mildew, mold, dust mites and other triggers isn't far away.
When is a Dehumidifier Used?
Excessive humidity doesn't always strike the whole year-round. You'll only need to turn on the dehumidifier during hot summer months, warm days, and rainy weather. If it exceeds 50%, that would be the best time to own one.
One of Air Professionals Heating & Air Conditioning technicians can take multiple readings to determine the current humidity levels of your house accurately. Besides that, they're always on the lookout for telltale signs that you will need a dehumidifier, such as:
Growth of mildew and mold on ceilings, walls, and other surfaces;
Water stains on walls and ceilings;
Stuffiness in rooms;
Worsening allergy symptoms;
A musty odor all around or in particular locations in the house;
Warping of wooden floors and furniture;
Rotting of wooden parts;
Condensation forming on the inner part of windows; and
Insect infestations.
Problem Area: Basement
Even in dry climates, basements are notorious for moisture build-up because of dampness caused by leaking groundwater and insufficient ventilation. Basements are usually relatively cooler than other rooms in the house, and there's a tendency for moisture to condense, settle, and get trapped in there.
It becomes the perfect breeding ground for molds and pests, and before you know it, other rooms in the house become affected.
Problem Area: Bathroom
Since it gets wet all the time, the bathroom is another area that suffers most from humidity. Steaming hot showers and baths spread moisture throughout every corner of the bathroom, even on the ceilings, walls, and floors.
An exhaust fan working in tandem with a dehumidifier will quickly reduce the humidity in a bathroom and prevent mildew and mold from forming.
Portable Dehumidifier vs. Whole-Home Dehumidifier — Which Should I Choose?
The best way to pick the right dehumidifier is to assess the extent of your humidity problem. In residences like a small apartment, a few portable dehumidifiers may do the trick and save you some money.
For bigger homes in humid climates, it's best to have Aprilaire whole-house dehumidifier system installed. The initial investment may be more substantial, but it will pay off in the long run. It's low-maintenance and will do a more thorough job of dehumidifying your whole house.
Portable whole-home models are large and powerful enough to cover the entire floor space of some homes. Other models can be fitted directly to the air ducts of an existing HVAC (Heating, Ventilation, and Air Conditioning) system.
What Dehumidifier Size Do I Need?
The capacity of dehumidifiers is measured in pints of moisture collected each day. Those of portables range between 30 to more than 90 pints. They are fussier to operate since they require frequent emptying, especially the smaller ones.
Bulkier dehumidifiers tend to make more noise and might not be suitable in smaller spaces. Whole-home models are much larger and designed for entire homes with severe humidity problems.
Choose Air Professionals Heating & Air Conditioning for All Your Dehumidifying Needs
No matter the extent of the humidity problems you're facing at home, Air Professionals Heating & Air Conditioning has got your back. Your health and comfort are our top priorities, and we can help you overcome and manage these concerns quickly.
Our technicians have the experience and know-how to assess your situation and figure out precisely what you need. Leave the whole house dehumidifier installation to us.
Breathe Easier with Air Professionals Heating & Air Conditioning
Flexible Service Schedule: We'll set an installation date that is most convenient for you.
Upfront Pricing: You'll know what you're paying for even before the service starts, and we'll deliver on every promise on our agreement.
No Overtime Charges: We'll do the work anytime, even during weekends and holidays for the same fee.
Satisfaction Guaranteed: We promise to fix any humidity issues in your home or your money back.

Very professional and kind. Great service. Looking forward to doing more business with them

Called ahead and showed up early. Was polite, friendly and knowledgeable. I have used Air

...

Professionals for many years.I am always very pleased with their work!

read more