Heat Pump Repair in Central New Jersey
Offering heat pump services throughout Central New Jersey
Nothing is worse than suddenly losing heating and cooling during the middle of the Winter or Summer months. Problems always seem to happen when you least expect it. Air Professionals Heating & Air Conditioning offers top quality heat pump repair services, guaranteed to meet your needs 24/7.
When the sizzling summer sun beats down on this part of Central Jersey, heat pumps force hot air out of your home, filling your indoor space with wave after wave of cool relief. Then, when Winter's icy fingers try to get you in their grip, your heat pump reverses gears, blanketing your home and your family with layer after layer of cozy warmth.
Heat pumps are interesting. These systems can both heat and cool your home. They work by using a refrigerant that pulls heat out of the air and pushes that heat either inside the home or outside of the home. Heat pumps are masters of efficiency for both heating and cooling, except in extremely cold temperatures.


Heat Pump Repair
We have been servicing homeowners in Central New Jersey for more than 25 years. Our trucks are fully stocked to repair your heat pump as quickly and effectively as possible. Your comfort is our top priority, and our team of licensed and insured technicians will get the job done the first time.
No matter the issue you are experiencing, whether large or small, our heat pump technician will restore comfort to you and your family in no time. We lead the industry in Central New Jersey, ensuring you get the service and care you need when you need it most.
Same-day Emergency Service
Industry-leading Products
Master Certified and Licensed Technicians

Signs You Need Heat Pump Repair
When your heat pump starts to act up you will know something has gone wrong right away. Here are some signs:
Is your heat pump making a squealing noise? This is often caused by a bad fan belt. Hissing usually indicates a refrigerant leak and gurgling could mean you have low refrigerant.
Because your heat pump is both your air conditioning and heating systems, it works almost all year long to cool your home in the summer and heat it in the winter. When your heat pump starts to act up you will know something has gone wrong right away.
Here are a few clues that you may need a heat pump repair:
High utility bills. Heat pumps are known for very efficient. If you notice higher than normal bills, usually point to an overworked unit.
"Stuck" in a mode. If your pump gets stuck in heating mode or cooling mode and refuses to switch. A common problem that usually leads to a problem with the reversing valve.
Weak Airflow. Weak air or low airflow could be caused by blockage of vents or filters. Or blower motor malfunction.
Odd Noises. Clanks, bangs, whistles, are noises your pump should not be making. You could be dealing with damaged or busted components.
Unusual Odors. Usually due to a buildup of dust and debris, musty and heavy smells are mostly just the product of a system that's not getting frequent enough maintenance.

Heat Pump Refrigerant Repair
Refrigerant is a compound used in a heat pump's heat cycle. This allows a change from a gas to a liquid and back, to either give off heat or absorb heat. When heat pumps lose refrigerant during the winter, they will not be able to adequately heat your home.
Signs of Refrigerant Leaks
Refrigerant leaks in a heat pump during the winter aren't always easy for a user to identify. Watch for the following signs that could indicate a refrigerant leak somewhere in the system:
Lower heat output;
Inability to keep indoor areas warm enough using the heat pump;
A hissing sound coming from the heat pump; and/or
Ice on the heat pump's coils.

Schedule Your Heat Pump System Repair Today!
Our team excels when it comes to heat pump repair. Our heat pump service technicians are certified by NATE (North American Technician Excellence) and ACCA (Air Conditioning Contractors of America). We are part of the rare breed that knows how to get the job done right the first time—every time. Top HVAC technicians in Central New Jersey.
We will never try to talk you into a new unit when a quality repair is the most sensible option. We back up our heat pump installation, repair, and replacement services with our 100 percent satisfaction guarantee. We are also sensitive to your budget needs, offering convenient financing options, subject to approved credit.
If your heat pump is experiencing any of these issues, know that we will have you up and running in no time:
It's freezing up;
It's not cycling on or off correctly;
It's not running when it should;
It's not heating or cooling properly;
The blower isn't working properly; and/or
It's making unusual noises.
Need heat pump repair or heat pump replacement in Central New Jersey? Contact Air Professionals Heating & Air Conditioning at (908) 284-2422 for emergency heat repair services, your trusted HVAC company!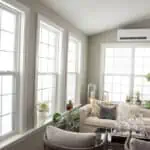 Introduction Into Mini-Split Are you tired of battling with uneven temperatures in your home? Does your sunroom feel like a…
Read More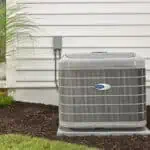 Find out if a heat pump is the right fit for your home and why they're gaining popularity in the United States.
Read More