Professional Air Conditioning Installation New Jersey
Providing Reliable AC Replacement & AC Installation in Central New Jersey
Is your current air conditioner struggling to keep your home cool throughout the Summer? Does your recent energy bill make you sweat a little bit more? Is your current system failing to meet your comfort, or your ac system needing frequent repairs?
If you are answering yes to these questions, it might be time to consider air conditioning replacement.
As your central air conditioner gets older, the efficiency of the HVAC unit starts to decrease. The average lifespan of an AC unit is about 10 to 15 years. Having an efficient air conditioning system is a must during Central New Jersey Summer.
Preventative maintenance of your central air conditioning could save you thousands in repair or replacement costs.
Our sales representatives can be at your home as quickly as the same day to go over different options and processes at no charge to you. All estimates are free!

Signs you need an air conditioner replacement
Generally, we suggest New Jersey homeowners go with an air conditioner repair before replacement, and often times it is the right move. However, in certain situations, a replacement might be quicker and more cost-efficient.
How do you know when it's time to replace your existing air conditioner? There are some important factors to consider when determining whether to replace your AC unit or repair your existing unit.
Signs your AC system needs to be replaced:
Getting Older. Air Conditioners are designed to run effectively for 10 years. Annually maintained AC units can last up to 15 years.
Constant Repairs. Notice your AC system needing frequent repairs? Rather than pay the cost of two or three visits a year, just replace it!
Loud noises. If your unit is making a high-pitched squealing noise, the issue is usually either the belt connecting the motor to the blower has slipped or the bearings on your condenser fan's motor.
High Energy Bill. If your cooling bill jumped up 20% or more, that could mean your HVAC system is struggling to maintain the set temperature making your system overwork.
Replacement is a viable option when your current air conditioning unit repair cost exceeds the reasonable price range. A bad condenser coil or compressor can cost a lot to repair, making a replacement more appealing and more beneficial overall.

Benefits of a new Air Conditioning System
Even if your central air conditioning system is running fine now, there are many benefits of upgrading and installing a new system. The lifespan of an air conditioner is typically 10 to 15 years, so if your system is more than 8 years old, you might consider replacing it.
That investment won't be without reward; here are the top three benefits of new air conditioner installation:
Increased energy efficiency – Newer models of air conditioners have a higher SEER rating (by law, they must be at least 13 SEER) and may qualify for the ENERGY STAR® rating. These systems can be twice as efficient as models installed just 10 years ago!
Lowered home energy bills – With a more energy-efficient system, your air conditioner will use less energy to cool your home, which means your monthly utility bills should decrease.
Improved comfort – A new central air conditioner will be better at keeping the temperature in your home consistent from room to room. Newer models are also often quieter when operating.

New Jersey Air Conditioner Installation & Replacement
As a New Jersey homeowner, you need a reliable HVAC system you can count on day in and day out to provide relief from the Summer heat.
When choosing and installing a new central AC system, homeowners can become overwhelmed with questions—and worry—about how and what they can install as far as air conditioning in their existing homes.
Installing air conditioning in an existing structure is easier than you may think. We offer a selection of air conditioners that fit a variety of space and size configurations.
Ductless systems – These are optimal for structures that do not have space to install ductwork. Or for rooms that need extra cooling. Or they are for the homeowner that wants the most energy-efficient system for their investment.
Split and packaged systems – When you want to replace your existing forced air ducted mini split system or packaged AC system; this is the option for you!
Flexible ductwork – We take our duct systems seriously. We always make sure your existing duct system can accommodate the airflow CFM created by your new system and if not, we know just how to design it so it evenly distributes air throughout your home. A properly designed duct system can help you to avoid costly system breakdowns and high utility bills in the future

Our Air Conditioner Installation Process
We offer professional, streamlined installation by our factory-trained, NATE-certified Technicians. They are continually evaluated as to the proficiency of their HVAC installation and maintenance knowledge and skills.
What You Can Expect with Your Cooling System Installation:
All of our proposal quotes will include the air conditioner unit, installation labor, and permits at one clear price. Everything is upfront with us, no hidden fees after the work is done.
Air conditioner installation takes our Technician a full day to replace and install. We start off by removing and old equipment with care.
We follow the EPA guidelines very closely. Our Technicians will never release any toxins like refrigerants, natural gas, or any other substances into your home or the atmosphere.
We haul everything away carefully and dispose of anything that is not needed for the new system properly.
Before we finish for the day, we will test the newly-installed system to check the components and make sure the airflow is consistent. Our Technicians will walk you through the in's and out's of your new system and answer any questions you may have.
We perform the standard permitting process with all our installation. We follow everything to code and the manufacturer's specifications. City inspectors love reviewing our work.

Schedule Air Conditioner Installation in New Jersey
At Air Professionals, we provide FREE estimates* for the replacement of existing (or the initial installation of new) air conditioning equipment. If you need to install a new air conditioner in your New Jersey home, we can provide professional and affordable heating and cooling solution!
Our licensed and factory-trained cooling experts are also all NATE-certified Technicians. They will treat you, your family, and your home with the utmost respect throughout the entire installation process. Check out what some of your neighbors have said about our AC services.
We also have a 100 percent satisfaction guarantee on all our work—if our work or products fail, we will come back and fix it! We also offer competitive installation costs.
Stay cool in your own home this Summer—contact the experts at Air Professionals for a free estimate* on a new air conditioning system. Schedule your service today and call (908) 284-2422. Your trusted HVAC contractor.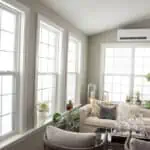 Introduction Into Mini-Split Are you tired of battling with uneven temperatures in your home? Does your sunroom feel like a…
Read More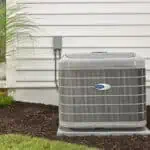 Find out if a heat pump is the right fit for your home and why they're gaining popularity in the United States.
Read More