How Long Does AC Replacement Take?
Needing to replace your air conditioning system can be a somewhat daunting thing, and out of all the questions we get on the topic "how long will it take" ranks number one. Which we totally understand! It's hot out there, and you want relief as soon as possible. So, to put your mind at ease, today we're going to answer that all-important question.
Looking for reliable, accurate, and time-efficient air conditioner replacement in New Jersey? Contact Air Professionals Heating & Air Conditioning online today to get started, or give us a call at ​908-284-2422 to learn more!
Air Conditioner Replacement Timeframes in a Nutshell
Today we're going to mainly focus on "the big day." Up until that point, there are consultations to be had, product selections to be made, etc., and those all happen according to your availability and ours. But when it comes to the actual day of replacement, the real nitty gritty, you'll probably be quite pleased with the answer: It should all get done in a single day.
Barring unusual circumstances, a standard air conditioning replacement can take as little as a few hours, maybe as much as 8-10 hours if the job is rough (odd ductwork, retrofitting, small space for installation, etc.). The time can be a bit more or a bit less depending on the system you install as well, which bears mentioning. For example:
Ductless cooling systems can be done within just a couple of hours because they exclude ductwork.
Type-to-type replacements, such as a central AC replacement, is often very quick because it's a simple process to pull out an old system and rework the new one in.
Geothermal systems can take a good bit of time, depending. If you're going from say central cooling to a GHP the job will involve piping and digging, which adds time.
Reliable and Top-Quality Air Conditioner Replacement in Frenchtown & Flemington, NJ
For perfect air conditioner services that get you back to feeling cool and comfortable, you can trust the team at Air Professionals Heating & Air Conditioning every time. We place the utmost importance on offering you the best in accurate and efficient customer-focused service, bringing you relief when you need it most. Contact us now to talk to our certified air conditioner specialists about your replacement service!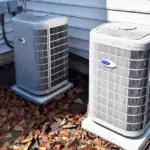 Autumn is just around the corner, with its official start on September 23rd! It feels like just yesterday we were…
Read More