3 signs your furnace may need a repair
Winter has officially started! Cold temperatures and snow have already started here in central New Jersey. A good furnace or heat pump system isn't just a luxury in weather like this. It's an absolute necessity.
If you suspect your heating systems may need a repair service or maintenance, know that air professional heating and cool are the experts to turn to. Nothing is worse than an unexpected heater breakdown in the middle of the winter.
Even the most well-insulated home can resemble the antarctic in a matter of hours. While we can come out and service your unit swiftly, we never want it to come to that, regular maintenance will make sure your system is running efficiently.
There are a few signs you can spot well before your system starts to break down. Looking for these signs can save you a lot of time and money, and get ahead of a problem before you are left in the cold to deal with.
While you should never attempt to diagnose or repair a problem yourself – furnaces require formal training and licensing to work on – you can still notice some common symptoms that signal an issue.
Here are some of the signs to look for!
1. Set temperature not being met.
Check the thermostat to make sure any notifications are present. If you hear your furnace running but the air being blown out is cold, you probably can assume there is a problem. This can be spotted early on by feeling the air coming from your vents.
A number of factors can cause this, such as clogged burners or a breach in the duct system. Something like this can cause your furnace to work harder to meet a temperature that the system could never achieve. This will cause the energy bill to go up, and potentially cause a breakdown in other components because of the strain.
2. Air Flow is very weak or nonexisting.
Low airflow can be caused by a number of issues. A really simple fix we come across is usually from a clogged furnace filter. Having a dirty filter can restrict airflow and make your system work double-time trying to force air through your ducts. Another issue could stem from the fan motor, not being able to push the air properly through your duct system.
These problems can force the heater to work harder to do its job. In most cases, low airflow means that the hot air being generated by the furnace remains trapped inside of it. This could cause other components to overheat. While most modern furnaces have safety features designed to shut the system down before that happens but older system out there does not have this feature.
3. Strange Noise or humming
Like in our article about "Why Is My Furnace Humming?" whatever is wrong with the system will create a noise that doesn't match your heater's normal sounds: a hum, a grind, a bang, a whir or anything else that doesn't sound right. Those sounds might not always be located in your furnace itself (a duct breach might whistle, for instance), but in almost all cases, the sound will start and stop with the starting and stopping of the heater itself.
When any of these happen, turn your furnace off and call Air professionals heating and air conditioning for quality furnace repairs and furnace maintenance in Flemington, Annandale, Hillsborough Township, Ringoes, Pittstown, Bridgewater, Milford, Lebanon, Basking Ridge New Jersey. Emergency service avaiable.
[ngg src="galleries" ids="1″ display="basic_slideshow"]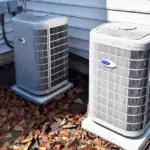 Autumn is just around the corner, with its official start on September 23rd! It feels like just yesterday we were…
Read More