Pay Attention to Things That Go Bump in the Night!
Your Furnace Could Be on the Fritz
If you enjoy being scared out of your wits, there's no better time than now and no better place than New Jersey. When it comes to Halloween, the Garden State knows how to celebrate in super "spooktacular" fashion. We here at Air Professionals couldn't be more excited to see our community enjoy a frightfully good time.
But we'd also like to remind homeowners that although scary noises are the perfect soundtrack at a haunted house, they could be signs of serious trouble at your own home. When strange sounds are haunting your heating system, it could mean you need our quality furnace repair service in Bridgewater or our top-quality furnace replacement skills in Hillsborough.
We'll Unmask the Culprit
One of our cool techs at Air Professionals will be more than happy to glide on over to your place to check out the cause of those unsettling noises or any other disturbing developments with your heater.
Please keep this in mind, too. Even if you're not experiencing specific problems right now, fall is the perfect time to schedule a routine checkup for your heating system. We'll give your unit a thorough inspection so it's fully prepared for the tough winter weather ahead. If you're part of our maintenance plan, you'll be able to cash in on additional savings and perks.
Furnace breakdowns frequently happen at the most inconvenient times—on weekends, in the middle of the night or when you're entertaining guests. Fall maintenance is your best protection against unexpected repairs and breakdowns that disrupt your life and your household. Plus, our superior tune-up will help your furnace run as efficiently and affordably as possible, saving you money on energy bills.
Here are just some of the spooky noises you might hear and what they could mean:
Banging or popping: The most likely culprits here are your air ducts. When they expand and contract, the air ducts often make a popping sound. There's no need for alarm if the popping sound is minor. But you should summon a professional technician if these noises are loud and persistent.
Screeching: When screeching sounds haunt your household, it usually means there's a problem with a motor bearing. Screeching also could be the result of a faulty belt. This means your blower has one foot in the grave. Call us to fix it right away.
Scraping: Is there anything more annoying than the sound of nails scraping on a chalkboard? When your furnace is making this obnoxious sound, your blower wheel is probably loose or broken. We can calm these evil spirits.
"Thwapping": Are you familiar with the sound that playing cards make when they're fastened to bicycle spokes? If your furnace won't give up this ghost, something could be stuck in the blower blades or stuck inside the furnace housing. This problem places a serious strain on your furnace's motor and could result in a total system breakdown. Don't wait long to call us.
Humming: With some units, humming is a normal sound of operation. But you should contact Air Professionals if you hear unusual, abnormal or unexplained humming.
Keep watch for other signs that your heater needs TLC, including foul odors, unexpectedly high energy bills and pockets of hot and cold air throughout your home.
We Only Hand Out Treats—No Tricks!
When it comes to keeping your furnace safe and efficient, Air Professionals is the skilled and experienced team you want on your side for furnace repair service in Bridgewater and furnace replacement in Hillsborough. We're available all day, every day for all of your emergency repairs, too. To learn more about our heating maintenance, furnace repair, furnace replacement and furnace installation services or to schedule an appointment, call Air Professionals today at 908.238.3732 or contact us on the web.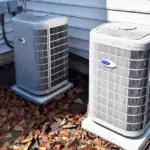 Autumn is just around the corner, with its official start on September 23rd! It feels like just yesterday we were…
Read More