Air Professionals Begins New Trek With Cooler Look, Cooler Website!
It's All Part of Our Brand Refresh to Best Serve You
It's one of those hot, sticky summer days. You're standing at the top of the high dive at the community pool, preparing to make the leap. You know it'll be worth it when you plunge into that cool, refreshing water below. But, all of a sudden, your nerves get the best of you. You're stuck—frozen in place.
When we first thought about updating our name and wrapping ourselves in an entirely new look, we've got to admit: The team at Air Professionals was a little nervous about taking the plunge, too. But, now that we've jumped in and submerged ourselves in this cool rebrand, we're more than excited to share it with you.
Why Did We Do It?
Why would a successful home heating and air conditioning company with more than 20 years in the business make such a dramatic change? There are certainly plenty of other companies out there that would never take the risk. Well, the answer is simple. Complacency wasn't good for our customers—or our company.
We wanted a name and a look that best reflect who we are: the most skilled, experienced and reliable professionals serving homeowners in Hunterdon, Somerset, Mercer, Morris and Warren counties with a full menu of top-shelf products, an unmatched reputation for impeccable service—and the commitment to do it all with smiles on our faces! That's a mouthful! But with just one glance, our little penguin friend says all that—and more.
The Difference Is Black and White
For all of our loyal customers, Air Professionals Heating & Cooling is the new face of an old friend. We're the reliable partner you've known and trusted—only cooler. We'll still be there 24/7—any hour of the day or night—to meet all of your heating, cooling and air quality needs. We still repair and perform maintenance on nearly every make and model on the market. We still offer top-quality replacements and installations. We still back up our work with a 100 percent guarantee. We're still committed to honesty and integrity. We still refuse to engage in questionable sales tactics, including trying to talk you into an expensive replacement when a more budget-friendly repair is all you need.
Another Feather in Our Cap
We've also overhauled our website to make it more user-friendly, informative and appealing. Feel free to coast around and explore what we have to offer, including our cooling, heating, indoor air quality and emergency services. Find out more about our journey here and discover why, if you're not a customer already, you should join our colony.
In the next few weeks, we'll be working our feathers off to add more cool details and hot features to our website. So we encourage you to waddle back again soon—and often.
In the meantime, don't hesitate to reach out if you'd like to schedule an appointment or learn more about us. Call us at 908.238.3732 or contact us on the web.
Go ahead. Take the plunge. You'll be glad you did.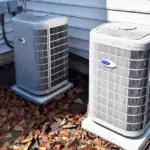 Autumn is just around the corner, with its official start on September 23rd! It feels like just yesterday we were…
Read More