How We Are Handling COVID-19
We have been designated by Gov. Murphy as a provider of "essential services" and as such we're operating to keep your home's heating and cooling systems up and running to ensure your safety, health, and comfort.
We wanted to let you know some of the steps we're taking to protect the safety of both you and our valuable teammates.
We have made all of our employees aware of and provided them with the materials they need to follow the recommendations of the Centers for Disease Control (CDC) as it relates to COVID-19.
When scheduling an appointment we will confirm with you that no one in your home is currently sick or quarantined due to COVID-19.
Upon arrival at your home, our employees will wash their hands with anti-bacterial soap before entering your building and again confirm that no one is sick or quarantined due to COVID-19.
We will dispense with the normal handshake greeting and instead simply wave to say "Hello" and "Thank you".
While performing our work, our employees will wear disposable gloves.
We will practice social distancing – endeavoring to maintain the recommend six-foot distance from our clients and their families and employees. We ask you to do the same.
We will bag any dirty filters immediately after removing them from your system to reduce the spread of dirt, germs, and viruses throughout your building. We will remove these filters from your property.
We will not be asking for your signature on our electronic tablets until such time that it is deemed appropriate to do so again.
Our employees will once again wash their hands with antibacterial soap (outside your building) when their work at your home is complete.
Our 3 Step process
1 – When Technician arrives for appointment, Technician will call the homeowner from his truck.
At that time, the Tech will advise the homeowner of the following:

Hands free payments – taking Debt/Credit over the phone.
Clear – no contact – pathways to indoor HVAC unit

Open doors
Turn lights on
Nothing in the way or preventing access to the unit that would need to be moved.
2 – The appointment will be split into 2 portions— inside and outside.
The outside portion will be completed first

After this part is completed the Tech will call the homeowner to make sure contact-free entry has been set up.

Before entering the home, gloves will be exchanged for a fresh set.

Clear – no contact – pathways to indoor HVAC unit

To practice social distancing, maintain a 10ft distance and limit all communication to cell phone only.
3 – Once appointment is complete, the Tech will call the homeowner from the truck to provide an update regarding the job and payment.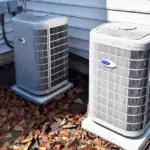 Autumn is just around the corner, with its official start on September 23rd! It feels like just yesterday we were…
Read More