A message about Coronavirus
At Air Professionals Heating & Air Conditioning, the health and well-being of our customers, associates, and community is our top priority. We understand the concern and uncertainty you may be experiencing surrounding the coronavirus (COVID-19), and we are committed to being responsive to the needs of our customers and associates as the situation evolves.
Like many others, we are taking guidance from the CDC, which recommends regular cleaning as one of the most important preventive measures we can make.
Our technicians are taking significant measures to make sure all of our trucks, tools, and equipment are being sanitized every visit. All of our vehicles are equipped with the necessary items to make sure everyone is safe.
We are committed to taking care of our team. For weeks, we have provided them with up-to-date guidance and information along with the tools and resources to keep them and their families safe, including encouraging sick team members to stay home, performing regular cleanings, and encouraging healthy handwashing practices.
Currently, it is normal business operations, and we are here to provide service for you and your home.
Air Professionals will continue to monitor the situation and take the necessary steps needed.
Thank You,
Scott and Sandy Desch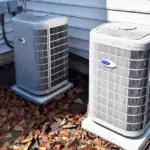 Autumn is just around the corner, with its official start on September 23rd! It feels like just yesterday we were…
Read More