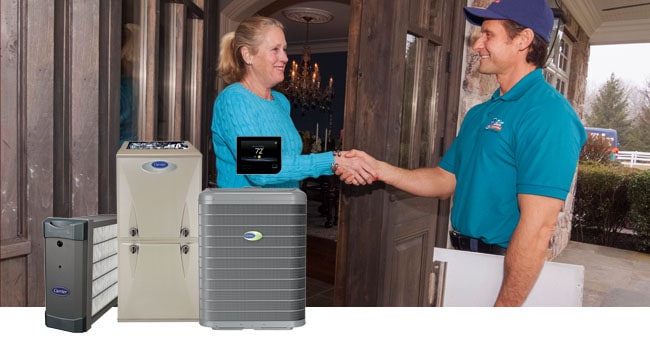 Air Conditioning and Heating Maintenance Program
Enjoy Year-Round Comfort & Peace of Mind
If you enjoy being able to rely on your HVAC equipment to keep your home comfortable all year long, then our Advantage Program is right for you. Becoming a member of our Advantage Program means that your equipment will be properly maintained and working at its maximum energy efficiency, resulting in an extended lifespan for your HVAC equipment.
Plus, if your system does break down, you will receive priority service and specially discounted trip and repair charges.
If the following advantages appeal to you…
Avoiding the inconvenience and discomfort of breakdowns
Reducing your energy bills
Having peace of mind concerning health and safety
Discounted repair charges
Extending the life of your equipment
Priority service if you ever have a problem
…then we would like to invite you to join the thousands of homeowners in the community who enjoy peace of mind knowing their equipment is working safely and efficiently — for one low package rate.
Call (908) 284-2422 or request information on how to sign up for our Advantage Program today!
Services Your Receive at Each Inspection
Here is the list of equipment we check and the services we perform for our Residential AC Maintenance Program customers. The items in the air conditioning and heating columns are performed at each inspection (once or twice a year, depending on your package).
Air Conditioning
Check condenser coil and clean
Inspect automatic blower control
Check operating pressures for refrigerant
Check thermostat calibration
Check safety control where applicable
Check all electrical connections
Check voltage and amperage on motor
Check condensate drain
Clean or replace air filter (as needed)
Lubricate all moving parts as needed
Check for correct airflow
Check starting capabilities
Heating
Check thermostat heating anticipators
Check all drain levers (sinks/tubs)
Oil and check the fan motor bearings
Check exposed ductwork
Safety check of low voltage wiring
Adjust fan limit control switch
Check and record heat amps
Check drain pan
Adjust on-off control and set differential
Check transformer's output
Flush drain line
Your Additional Benefits
Here are some of the additional benefits included in all of our Residential Maintenance Program packages

Two Maintenance
Per Year
You get air conditioning and heating maintenance per year, scheduled at your convenience.

FREE Filter
Replacement
You get a free standard 1" filter with every maintenance—for free!

Membership
Dividends
For every year of membership, you will earn $100.00 towards the cost of new HVAC Equipment replacement.

System Health
Report Card
Helping to redefine uptime with real-time diagnostics data about your system's overall health.

Discount
Repair & Products
15% discount on repairs and on air quality products
We guarantee that your membership price costs will not increase for a 10 year period.

Kimberly J. C.
13:17 16 Sep 21

Tiffany C.
19:17 10 Sep 21

I have been using air professionals for many years. Jon came out today to fix our ac unit which

...

was leaking. He explained what was happening and made recommendations. He got the unit working so that we wouldn't be without ac for the remaining hot season. He was so wonderful to deal with and most important,we trusted his advice and recommendation. Thank you for always putting your customers first. Thank you Jon for today.

read more